Who I am.
I was born in West Berlin back when it was still called that, and brought up in the fine Irish city of Kilkenny.
I now live in Toronto and work as a freelance graphic designer, writer, animator, director and editor.
What I do.
Create animated and motion-graphic segments for TV and film.
Design websites, print material, logos, and visual identities.
Script documentaries and web videos.
Write articles on current affairs, ad and promotional copy, and fiction.
Interview subjects for TV documentaries.
Shoot live-action material for promos and documentaries.
Edit documentaries for TV and the web.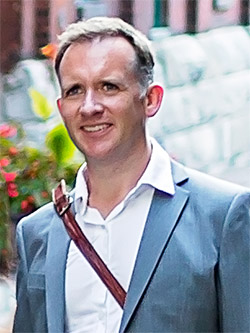 Where I learned it.
Master of Arts (MA) in film production, first class honours, from Dublin Institute of Technology, Ireland, October 2001.
Bachelor of Design (B. Des) in Visual Communication with Special Commendation, from the National College of Art and Design, Dublin, Ireland, June 1994.
What I speak.
English
Gaelic
Cantonese
German
French
PHP
Javascript
What I've done.
August 2000– present
Freelance animator, director, editor, and graphic designer
Writing and creating animated sequences for TV documentaries.
Shooting, animating, and editing live-action and animated documentaries for TV and the web.
Designing websites, identities, and printed pieces.
December 1997– August 2000
Animator and graphic designer at Citytv and CP24 news channel, Toronto
Writing and producing weekly cartoon feature for TV show QT.
Designing and producing animations and writing scripts for weather show.
Designing and animating graphics for news and entertainment shows.
September 1995– July 1996
Graphic designer and animator at Discis, an educational and entertainment software company.
Designing interfaces and content for educational software.
Creating ads and designing packaging for interactive products.